Geeta Dammanna , Attorney and Counselor at Law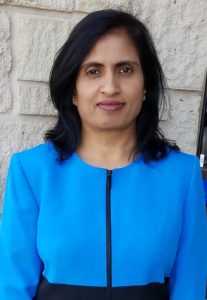 Geeta R. Dammanna, Esq. is the founding attorney at Dammanna Law, PLLC. She has more than eighteen years of experience in the legal field and is currently licensed to practice in the state of Texas, USA and the High Court of Andhra Pradesh/Telangana, India. Ms. Dammanna practiced law in India prior to moving to the United States. After moving, she attended the University of Texas School of Law where she received her LLM and has been rooted in the legal field in Dallas for the past fifteen years.
Ms. Dammanna's principal areas of practice are business and family immigration, business contracts review, and family wealth planning. She has worked in both a small boutique firm and a U.S. based international firm and has a solid understanding of the nature of both environments. Her hands-on experience at these firms includes business immigration with a wide range of immigrant and non-immigrant categories of visas pertaining to various occupations. In both settings, she has worked closely with clients, the USCIS, the State Department, the DOL, and the U.S. consulates abroad.
Ms. Dammanna reviewed several business contracts of businesses for the clients' commercial lease, health care, franchise, and film production agreement needs.
Ms. Dammanna has been professionally assisting several clients with their family wealth planning needs including – will, living trust, kids' protection planning, health directives, and power of attorney.
Outside of work, Ms. Dammanna is deeply involved in community service. She has donated her time and efforts to non-profit communities for the past seventeen years. She has served in prominent positions in several local and national Telugu organizations. Ms. Dammanna has also received recognition from the Pro Bono College of the State Bar of Texas for her pro bono legal services in 2017, which exceeded the minimum standards of eligibility as set forth by the State Bar of Texas.
Ms. Dammanna is professionally affiliated with the State Bar of Texas; the Bar Council of Andhra Pradesh, India; the American Bar Association; and of the American Immigration Lawyers Association. Ms. Dammanna is also a member of the Texas Bar College, the sole U.S. honorary society to recognize lawyers who demonstrate outstanding quality of public service by completing at least double the required hours of continuing legal education each year.
Ms. Dammanna is proficient in English, Hindi, and Telugu.